Managing Director
Trevor Fairhurst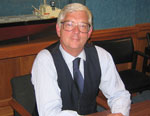 Trevor Fairhurst was with P & O from 1966-1979 rising to Director (Oil and Bulk) - P & O Bulk Shipping Ltd., with responsibility for tanker, bulk carrier and combination carrier activities. Senior UK representative of Cast group until its demise in 1983, responsible for Bank negotiations and renegotiations as well as market representation generally.
Trevor Fairhurst uses his world wide shipping contacts and wide experience in ship owning to advise clients upon and then implement investment and disinvestments strategies. His understanding of the industry coupled with personal judgement is a key factor in providing good 'de facto' services to clients.
Trevor Fairhurst sits as an arbitrator when approached on disputes in his experience range and has sat on a number of Boards as a non-executive.
Banks/Financial Services