Fairwind Shipping
Fairwind Shipping was established in June 1983 as an independent company providing a wide range of marine consultancy and support functions, including commercial strategic advice and management for the purpose of resolving any problems with the minimum of exposure and expenditure.
Company Profile
Our prime role was to assist shipping departments, loan officers and recovery departments with the work overload always associated with problem situations. We provided both independent advice and a management service.
In addition to providing analytical and planning support, Fairwind also provided full commercial and operational management to those organisations who voluntarily or involuntarily came into ownership of a vessel.
The use of our commercial management services left the owner, or investor flexible to divest at any time without the cost and conflicts imposed by the presence of an in-house office - Fees not Overheads!
Fairwind managed and/or advised upon hundreds of vessels including VLCC's, Capesize, OBO's, Handy sized bulk carriers, Mini bulkers, chemical tankers, ferries, cruise vessels, offshore drilling rigs and container vessels.
Our main concern was to bring practical shipowning experience to assist clients with any shipping related problems in order to generate the best solution and optimise profit.
Trevor Fairhurst (Managing Director)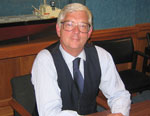 Trevor Fairhurst was with P & O from 1966-1979 rising to Director (Oil and Bulk) - P & O Bulk Shipping Ltd., with responsibility for tanker, bulk carrier and combination carrier activities. Senior UK representative of Cast group until its demise in 1983, responsible for Bank negotiations and renegotiations as well as market representation generally.
Trevor Fairhurst used his world wide shipping contacts and wide experience in ship owning to advise clients upon and then implement investment and disinvestments strategies. His understanding of the industry coupled with personal judgement was a key factor in providing good 'de facto' services to clients.
Trevor Fairhurst sat as an arbitrator when approached on disputes in his experience range and has sat on a number of Boards as a non-executive.
To contact Trevor email click here.